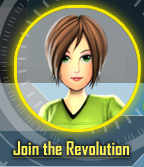 One of the books that we use a lot as a reference point for teachers is
Learning, Earning and Investing.
Economics
Wisconsin
uses it mainly to educate teachers on the Stock Market in use for our Stock Market Simulation. Also a variety of our workshops cover a topic, activity or lesson from the LEI. It is a great reference and teaching tool.
The Council on Economic Education has yet another great resource that goes along with the lesson plans from the LEI. It is the
Gen i Revolution
. This free, online game consists of fifteen interactive missions in which students complete a variety of activities to help them learn important personal finance concepts. Within each mission, students are introduced to a character who is facing a particular financial crisis. As a part of the Gen i Revolution, the student learns about the crisis, strategically selects "Operatives", and then completes activities with the ultimate goal of solving the mission.
This game is geared towards 6th - 12th graders and each "mission" (there are 15 in all) takes about 30 minutes to complete.
Feel free to look around there site and sign yourself up to play!